Workforce & Resource Managers
RESRODEL has been built to relieve Workforce & Resource Managers (WRMs) of the burden of data-handling, analysis and communication. When undertaking Capability Planning or Allocating People to Work, these tasks can become overwhelming if left to manual or DIY methods within a Project Based Enterprise (PBE).
WRMs enable PBE's to make decisions that improve Enterprise Outcomes by balancing people, project delivery and business. To do this, WRMs must essentially ensure:
All projects are provided with the people they need
Utilisation across the enterprise is maximised
There are no plans to overwork people
Analysis is provided early enough to act
To achieve this, WRMs need a means to predict workload, ability to deliver and efficiency (utilisation) and therefore must overcome substantial challenges that include:
Predicting a big picture of the future – from bottom up – from data supplied by others
Double handling large volumes of data into a single model – from multiple sources
Answering an infinite number of questions – asked by many across the enterprise
Producing evidence that justify decisions – like 'how many people need to be hired?'
Keeping up with constant change
Being an influencer, when often not a decision maker
Building a digital solution that enables fast data entry, delivers decision making analysis that is easily shared with everyone.
As human effort is at the heart of any PBE, there is widespread exchange of effort data like project and activity Demand, people's Availability, people's Allocation and aggregations for decision making. WRMs often channel for much of the PBE's information and can the be the largest number of interactions of anyone, which is very consuming.
But image, if all effort data was in a central place and is accessible by anyone – without communicating directly through the WRM.
WRM - who are we referring to?
Resource managers
Workforce planners & analysts
roster or schedule clerks
When there is no dedicated WRM…
anyone who has to work through capability planning and/or allocation of people to work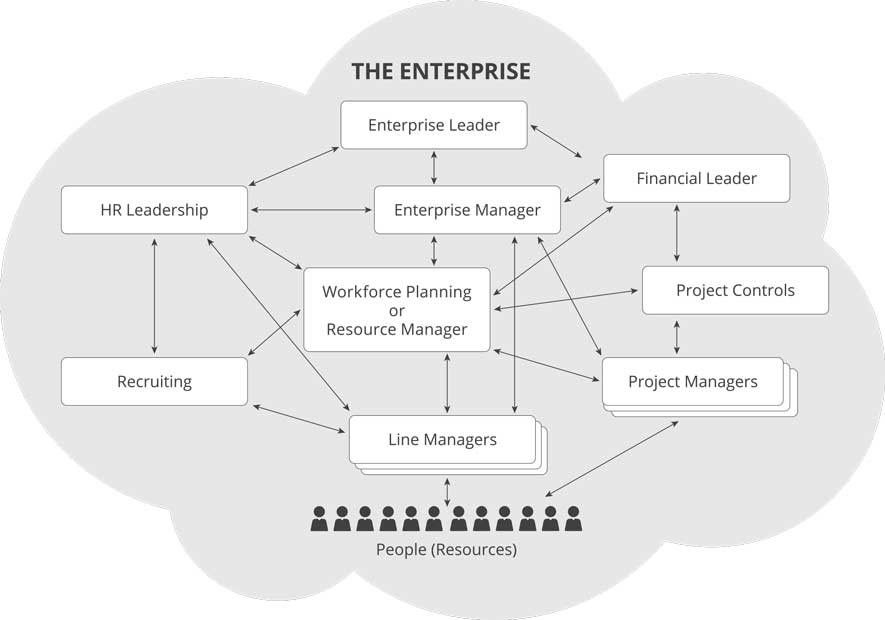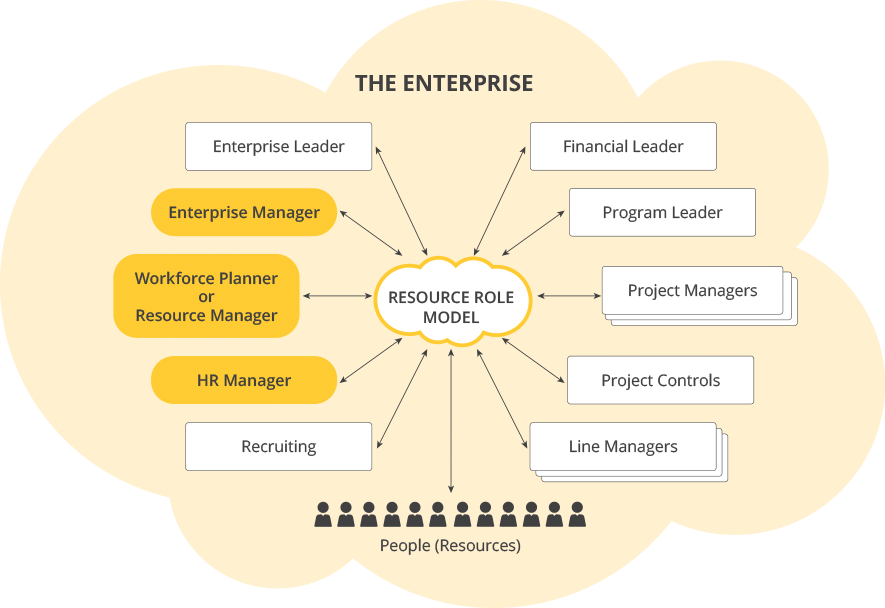 Uniquely, using RESRODEL, WRMs can foresee Enterprise Outcomes regarding people (work-life balance and satisfaction), project delivery (time, cost, quality) and the business (utilization, value, profit).
This is achieved using RESRODEL's forecast metrics called Capability, Utilisation, Assignment – that predictability to deliver, enterprise efficiency and people's workload – derived from modules that quantifying Demand, Capacity, Allocation – derived from the relationships between Work, Roles, and Resources.
RESRODEL is an evolutionary online solution that:
Provides WRMs with powerful 3-way outcome analysis using the new Effort Management theorem, that surpasses conventional 2-way gap methods.
Frees up WRMs by enabling everyone to:
contribute information via RESRODEL's Effort Modules to estimate work, tally availability and allocate people to work.
undertake 'self-service' analysis using RESRODEL's powerful table and chart analysis
Integrates with other existing data sources e.g. scheduling or HR data
Provides an exceptional user experience and easy to follow process
WRMs in PBE's no longer need to be burdened by handling data, analysis and communications and will be more confident that their plans deliver projects and maximise utilisation and do not overwork people.
More Solutions to Challenges
Other challenges WRMs in PBE's specifically encounter and RESRODEL's solutions are outlined below:
1. PBE Environments
Compared to many other workplaces, balancing people and work efficiently in PBE's has a greater degree of complication due to:
Large number of projects and activities that each occur at different times
Large number of varying Roles
Project volatility – from continual re-prioritisation, approval, delay or re-scoping
RESRODEL, is the resource role model built specifically to capture all project information in a data structure that is easily understood by users. This brings order to complexity. Users find each data entry task relatively straightforward with RESRODEL's spreadsheet-like interface. Changes to time can be quickly updated manually, and RESRODEL can also integrate with best practice scheduling tools.
2. Confused Methods
Conventional analysis calculates the gap between 'supply and demand'. While Demand for a Role might be clear, 'Supply' is ambiguous. 'Supply' could refer to the enterprise capacity, or allocation of named people to a project. Demand and supply analysis is a two-way balancing act of primary effort data that does not provide complete insight into enterprise Capability, Utilisation and Assignment.
RERODEL's system of Effort Management is as continuous as it is complete. Not only does RESRODEL build and analyse Demand, Capacity and Allocation – it also predicts workload, ability to deliver and efficiency (Utilisation).
3. Capability Planning
When Capability Planning at the enterprise or project level, WRMs often encounter specific frustrations that include:
Obtaining estimates/updates of Demand data, or schedule data, from 'project teams'
Comprehending Capacity, when people's availability fluctuates due to leave and part-time work, and people are sourced from different organisations.
Comprehending Allocation, particularly when, at any one time, people are allocated across multiple activities and projects.
Understanding the impact unsecured opportunities have on Demand.
In RESRODEL, 'project teams' can enter estimates or updates of Demand directly via the Demand module. HR, Line Managers or individuals, can enter people's availability, and exceptions, via the Capacity Module. People's Allocation to activities and projects is quantified via the Allocation module.
4. Allocation
The process of allocating people to work is not always straightforward. Frustrations that the WRMs often encounter include:
Knowing who will be available and when
Knowing if a person has been over allocated work, particularly if allocated across multiple activities.
Knowing how to allocate multiple resources to an activity when the activity has insufficient allocation and existing resource has no further availability
Finding work and people that can be shared across sub-enterprises
Tracking where people have been allocated
Building consensus as to where people should be allocated
Soliciting Approval or Acceptance of proposed allocations, as per business rules
The planned allocation of people, aggregated period by period, is easily identified in RESRODEL. People being overworked, or with spare availability, are immediately identifiable. Equally, activities with partial allocation are easy to find and can be quickly supplemented with further allocation.
Finding people and work in sub-enterprises that can be shared across the enterprise is straightforward in RESRODEL.
Finally, RESRODEL can track people's Allocation status e.g Proposed, Approved, Accepted.